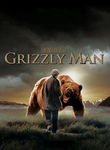 Picture borrowed from Netflix from whom I rented the movie...
I finally got around to watching this movie last night. A number of folks have suggested I see the documentary "Grizzly Man." After watching it, I hope they don't think I'm anything like Tim Treadwell. Sure, I've had many encounters with bears in the wilderness (I'll try to get a post together about some of those this week), and I too have a collection of Teddy Bears (all gifts) including my alter-ego Nevada Jack. I hope that's where the similarities end.
Tim Treadwell spent thirteen summers with mosquitoes and Grizzlies in Alaska. He ignored the bugs although they can be seen swarming in much of the 100 hours of video he shot. He was obsessed with bears. This documentary is based upon the video Treadwell shot and augmented with interviews from bear experts, his friends and family and coroner. Hopefully, if someone does a documentary on my life, after my demise, a coroner will not be a part of the cast.
Had Treadwell stayed in mainstream society, he'd be a therapist's gold mine. He lived his life vicariously through the bears. He saw himself their Messiah, a Christ-figure, and as with other Messiahs, those he loved killed him. Needless to say, mental stability wasn't his forte. During one particularly dry summer, in which the salmon were unable to run upriver and the bears were beginning to eat each other and their cubs, Tim went out and removed rocks in a set of rapids so that salmon could get upstream. His lane looked like a seafood aisle for the bears. We were never told if any of the salmon tried to make it up his suicide run. Later, as the drought continued on for two months, he filmed himself in a profane triad against God and the gods, from Christ to Allah to Hindu deities and other gods in between, demanding rain to relieve the suffering of his bears. When it started to rain, his Messiah complex mushroomed. He credited himself with saving the bears.
Of course, one so immersed with nature has a hard time making it with humans. But this didn't mean that the Grizzly guy didn't try. He liked women and couldn't understand why more women didn't like him. "Why don't they like me," he asked the camera, "cause I think I'm pretty good in the…" Then he said a guy isn't supposed to talk about things like that. He also discussed how it would be easier for him to be gay, for he could just go to a truck stop and get his fix. Of course, if this was how he understood relationships, it's no wonder he had a hard time getting along with people, men and women. Treadwell obviously had a need to connect to people as evident by the hours and hours of video he shot in which he hammed it up for the camera. It's also interesting that his last two years in Alaska was spent with a girlfriend who became dessert for the bear who ate Treadwell. Treadwell hogged the camera and she is seen only a couple of times in the vast amount of video he shot. This is unfortunate for she was beautiful.
The movie depicts Treadwell as a man who had an idealistic view of nature and doesn't understand the stark realities that the world of bears (and foxes and all animals for that matter). Their world is harsh. Each animal is a part of the food chain. Even though a Grizzly may be on the top, when they get old, they too became targets. But Treadwell romanticized the bear's world. He got upset at natural things, such as a male grizzly killing a cub so the mother will stop lactating and be once again be interested in sex.
Early in the movie, Grizzly Man reminded me of what might have happened to Mr. Rogers or Captain Kanagroo if they had been burned out on drugs. And sure enough, as the movie continued to explore past Treadwell's life, it becomes apparent he had bad experiences with both drugs and alcohol. He credits the bears with "saving him," recalling this weird covenant he made with them. Treadwell promised to watch over the bears if they helped him avoid alcohol. If it's possible to be co-dependent with part of the animal kingdom, this guy was.
My favorite scene in the movie was shot just a few days before his death. It shows a bear diving into a deep pool of water in search of salmon. Like a skin diver, the bear drops her head down and kicks up her back paws as she slowly sink downward. It's incredible footage.